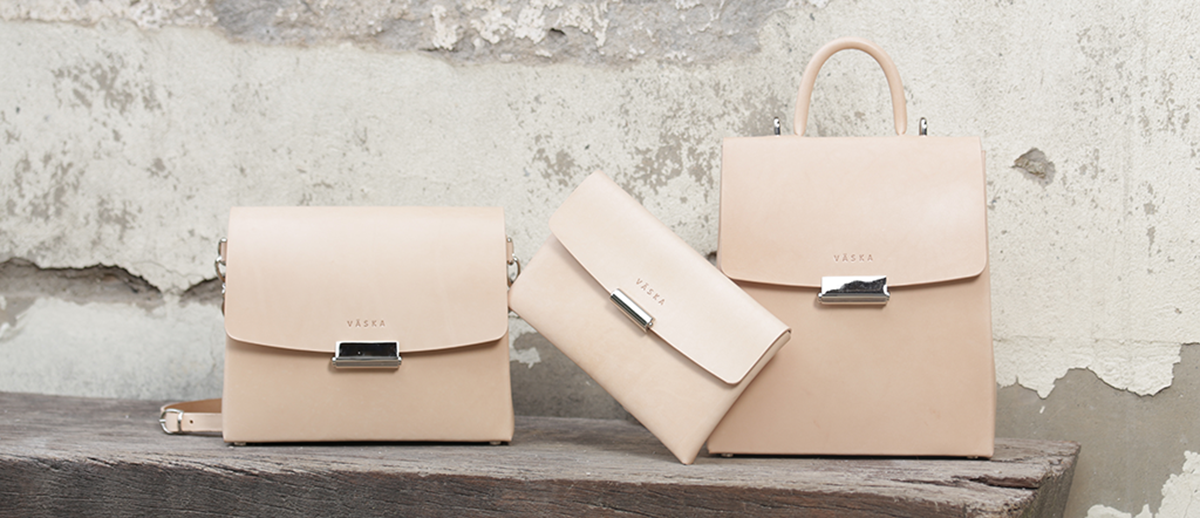 Väska is a minimalist luxury leather accessories brand created in Barcelona in 2012.
The brand Väska comes from the Swedish word for "bag" and is influenced in all its designs by the Fenno-Swedish origins of the designer, following a very Nordic and pure line combined with a Mediterranean touch.
Each bag is 100% handmade with a passion for traditional craftsmanship and innovative design, using only one piece of the finest vegetable tanned leather without any stitching. The final result is a sustainable line offering unique and contemporary interpretations of timeless styles with a high sense of effortless elegance and quality.
VÄSKA received the honor to participate in 080 BARCELONA Fashion Week in 2014, 2015 and 2016. In 2015, Väska was the winner of the first edition of the FUTURE OF FASHION Program curated by Not Just a Label and Who's Next, the most internationally renowned fashion trade show in Europe. Other honours include being selected as best emerging talent for the pioneering event ORIGIN PASSION & BELIEFS in Italy in 2014 and 2015.

Our Leather
VÄSKA works with genuine vegetable tanned leather from Spain. The leather derives from the best local tanneries with a long history and knowledge of leather production, which guarantees the highest quality of our bags that perfectly combine tradition and innovation.
Natural vegetable-tanned leather is one of the oldest methods of making leather and has been used for thousands of years. It refers to keeping the natural colour and characteristics of the leather, and is the most natural and eco-friendly type of tanning. Unlike chrome leather (chemically treated), vegetable tanned leather is treated with natural tannins found in barks, wood, leaves, plants, etc. The end result is a genuine and lush appearance, and best of all, it ages beautifully. No heavy metals or toxic substances are included in the tanning process of vegetable leather.
Sustainability
Väska believes in durability and smaller-scale production: quality before quantity.
Using this as a rule, Väska leather bags are locally produced in Barcelona using carefully selected high quality leather from the best local tanneries in Spain.
Being vegetable tanned, the leather does not contain any harmful chemicals, which could potentially damage our environment. All the substances used during the tanning and dyeing process are REACH compliance, the European Community Regulation on chemicals and their safe use run by the European Chemicals Agency (ECHA) in Helsinki.
All the products are made within a context that respect people and the environment.
Atelier
Väska leather bags are designed and made in a small atelier in Barcelona, Spain. Each piece is carefully crafted by hand from start to finish using traditional techniques and the highest quality material.
In the production process, each model is drawn in a sketchbook, then converted into 3D shapes by experimenting with paper and finally handcrafted with the utmost attention to detail.
By keeping a hands-on role in a limited quantity production, no two creations are exactly the same, each making its own unique statement.
For wholesale information, press inquires and personal orders please contact us.